In our Billy Wolf On The Road series, we highlight some of our favorite dog-friendly destinations around the USA. Know a place we should feature? Drop us a line at info@billywolfnyc.com
In our book, the best travel is travel you can do with your faithful companion by your side. We take our dogs everywhere with us and are always seeking out places that go out of their way to make our little buddies feel welcome.
In the first edition of Billy Wolf On The Road, we're venturing a short drive from our new home base outside Portland, Maine, for a trip to the Midcoast. The area is the perfect place to head to for a little peace and quiet, and it's dotted with small towns and villages for when you want to socialize, shop and dine. In every spot on this list, we instantly felt welcome and often found ourselves chatting with the owners and workers. And as soon as we got home from our first trip to the Wiscasset area, we were already marking an upcoming weekend on the calendar to make a return trip.
About an hour outside Portland, the historic Squire Tarbox Inn has the perfect mix of rustic, historic details and contemporary touches. When you're not out exploring the area, be sure to visit the inn's resident goats and chickens. (They're a friendly bunch.)
Touted as home of the world's best lobster roll, no trip to the area would be complete without a worth-the-wait-in-line stop at Red's Eats. The family run spot has been in business for over 80 years and featured in a long-running variety of best-of lists, magazines and TV shows. Grab your rolls (or one of their many other seafood options - but seriously, make sure at least one person in your party gets the roll!) and take a seat at the picnic tables right on the banks of the Sheepscot River to enjoy the view. After lunch, stroll up the block for coffee, dessert and provisions from Treats.
There's no shortage of dog-friendly hikes in the area, but if you're looking for something a little different - or need a rest - drive on over to Boothbay, a nearby must-visit small town. The Boothbay Railway Village museum is completely dog friendly...so as long as your pup stays on her leash, she's welcome to explore the grounds, ride the vintage steam locomotive and check out all of the museum's events by your side. If your dog loves feeling the breeze with his head out the window of the car, wait till he experiences his first train ride.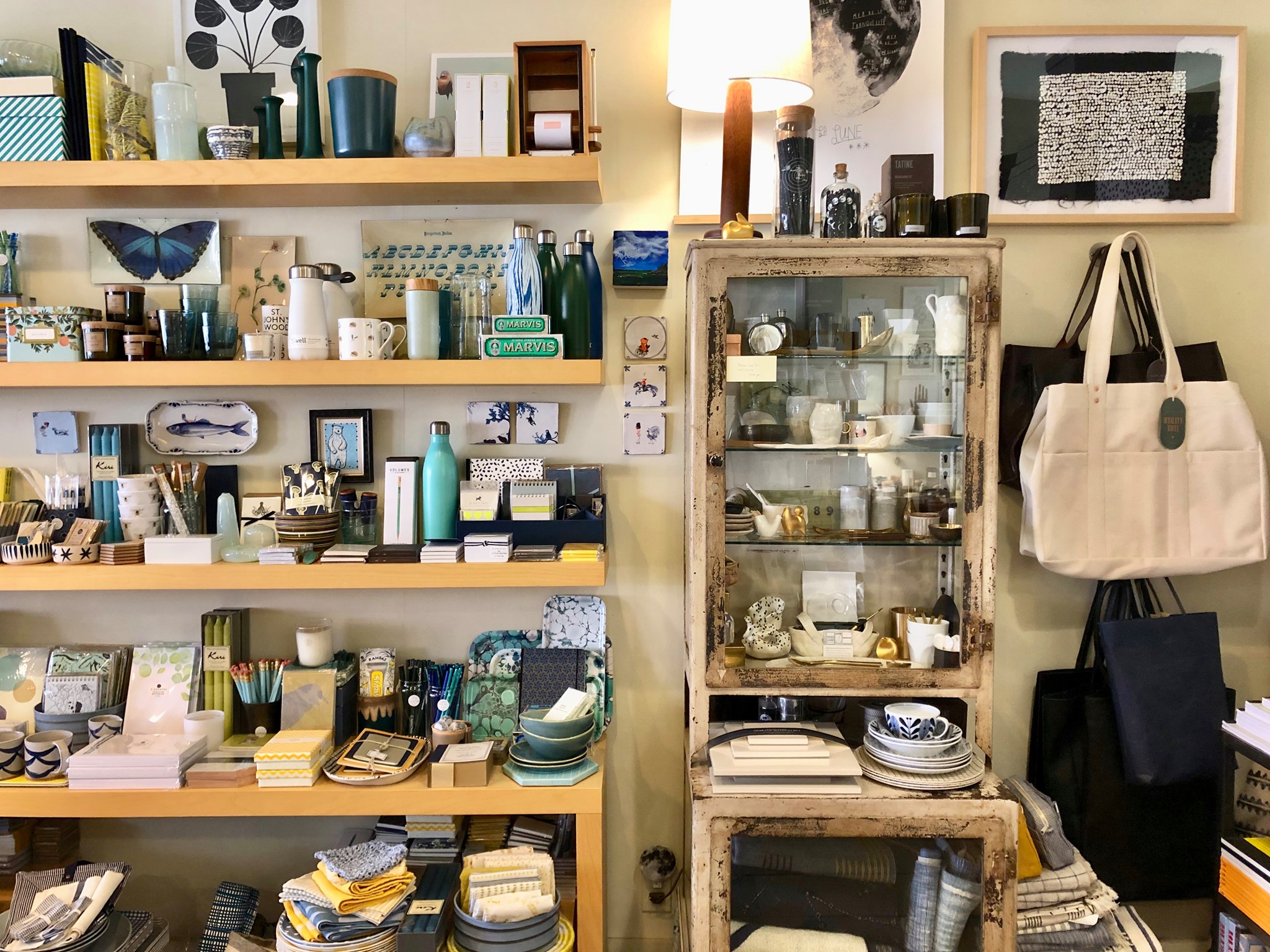 We're not exaggerating when we say we could spend hours in Wiscasset gift shop Rock Paper Scissors. Owner Erika Soule has been curating a covetable selections of goods for the shop for nearly 20 years, ranging from a colorful variety of pens, stationery and ceramics to jewelry and children's gifts. We want it all!
Hitting the road with your pup? Let us follow along on your adventures by following us @billywolfnyc and sharing your photos with #billywolfpack.
Photos by Squire Tarbox Inn, Red's Eats, Boothbay Railway Village and Rock Paper Scissors.